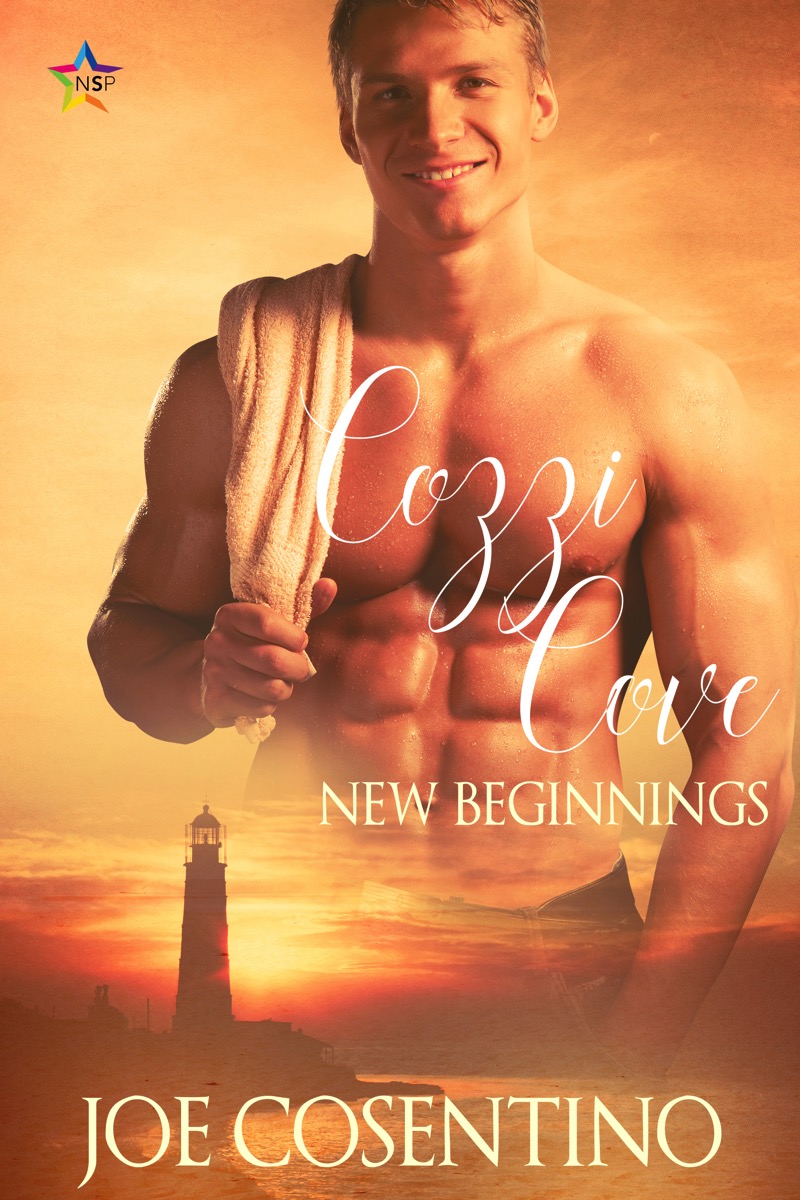 Interview with Vlad Lestiin Cozzi Cove: New Beginnings, the fourth novel in the Cozzi Cove beach seriesby Joe Cosentino, published by NineStar Press
Joe: Welcome, Vlad, a very mysterious new guest at Cozzi Cove in the fourth Cozzi Cove novel, Cozzi Cove: New Beginnings.
Vlad: I'm happy to be out of your head for a while, Joe.
Joe: Since they can't see you, I'll tell the readers you are tall, lean, very cut, with jet-black hair and eyes, and quite large molars. Animals seems to obey you. You are allergic to garlic, shy away from the sun, and you are incredibly strong.
Vlad: You created me, so you should know.
Joe: At Cozzi Cove, you meet guest Jonathan Harper and romance ensures.
Vlad: For our dogs, Renfield and Barnabas, as well.
Joe: But nothing is what it seems in the magical, romantic place called Cozzi Cove.
Vlad: I found that out.
Joe: You joined us in the fourth book. How do you like Cozzi Cove?
Vlad: It's amazing. There's no place like it. 
Joe: Agreed! 
Vlad: How did the readers and reviewers like the first three Cozzi Cove beach novels?
Joe: They loved them, even though you hadn't arrived in Cozzi Cove yet. After Cozzi Cove: Bouncing Back (TBR Pile Favorite Book of the Month/Rainbow Award Honorable Mention), Cozzi Cove: Moving Forward, and Cozzi Cove: Stepping Out released, readers and reviewers praised their romantic, humorous, dramatic, mysterious style, and interwoven captivating stories. Many readers begged for a return trip to Cozzi Cove, so I wrote Cozzi Cove: New Beginnings. As with the first three books, romance is everywhere on Cozzi Cove, and nothing is what it seems. It was like visiting good old friends to further develop the characters in book four. And with you joining the cast, readers will love this new book even more! Care to tell the readers a bit about the storyline of Cozzi Cove: New Beginnings?
Vlad: Sure. Cal and Michael open the bungalows for the fourth summer. There are five interwoven stories about Cal, his family, his houseboy, and his guests, including sweet Jonathan and me.
Joe: Tell us more about the main character, Cal Cozzi, and the developments in book four.
Vlad: Cal is a handsome and sexy ex-football player. In book four, Cal finds his great-grandfather's diary, exposing a shocking surprise. After getting married in book three, Cal and Michael are expecting a baby in book four! And Cal's sister, Taylor, drops in from Paris as usual. As a type A personality and top one-percenter, the world revolves around her, which makes her hysterically funny. She is also incredibly devoted to Cal. And she loves getting under Michael's skin. Taylor's wife, Carla, is the surrogate for Cal and Michael's baby. And Michael and Taylor weigh new job opportunities that could take them away from Cozzi Cove. New houseboy, Billy Dean from Alabama, comes to work at Cozzi Cove. The young bodybuilder carries a chastity card, but of course that doesn't last long at Cozzi Cove.
Joe: I'll never tell. How about the other guests in book four?
Vlad: Flight attendants and siblings Andrew and Annabel catch the fancy of bisexual travel agent Nijad who can't decide which sibling he prefers. 
Joe: As usual, nothing is what it seems as secrets are revealed and romances blossom in the magical place called Cozzi Cove. Vlad, what do you think is the moral of the story?
Vlad: Don't you know? You wrote it?
Joe: I think the moral is that we are all connected to our past, present, and futures.
Vlad: Jonathan and I certainly connected, especially my mouth with his neck. Joe, which one of the characters was the most fun to write? 
Joe: Billy Dean's southern expressions, and Annabel's British expressions cracked me up. Of course Taylor is always hysterically funny. Her wife, Carla, gives Taylor a run for her money in book four. I laughed out loud many times while writing her. And Jonathan's obsession with the occult is a riot.
Vlad: Which character was the most difficult to write?
Joe: You with your vampire persona, but as a huge fan of the old Dark Shadows serial, I was up to the task. 
Vlad: Are you Cal? Is Michael your spouse? And is Taylor your sister?
Joe: Cal is more like the person I'd love to be. One of the guests in book four, Jonathan the tax auditor, is a great deal like me. I want to play him in the movie. Taylor is very much like my sister, though my sister won't admit it—in public.
Vlad: Who's like me?
Joe: You're unique. 
Vlad: Will there be more Cozzi Cove novels? Please don't leave us dormant in your brain!
Joe: If I can keep waking up at 3am with new ideas, there will be more novels. So get busy and start whispering ideas in my head. By the way, I wrote a screenplay version of the first novel. Come on, producers, make me an offer! Couldn't you see Matt Bomer as Cal? Actually, I could see Matt Bomer as anybody in anything. Now let me ask you, Vlad, how did you do with your love scenes in the book?
Vlad: They were amazing. Dracula, eat your heart out. Joe, do you react like a reader when you read your own books?
Joe: Totally. I just reread Cozzi Cove: New Beginnings and laughed, cried, gasped, and felt romantic. I was shocked at the ending of each storyline.
Vlad: As a college professor/department head, how do you have the time to write?
Joe: I write at night after my spouse has gone to bed. I have a beautiful cherry wood study with a fireplace, huge desk, bookcases, and window seat overlooking the woods like Martin Anderson, the department head in my Nicky and Noah mysteries. When I complain about my schedule, my mother says, "Just think how hard you would work if you had a real job, like your sister."
Vlad: Joe, tell us about your other gay romance releases.
Joe: In My Heart/An Infatuation & A Shooting Star (Dreamspinner Press/Rainbow Award Honorable Mention) first love novellas are loosely based on my high school and college years respectively. They were so popular as individual e-books, Dreamspinner Press published them together in one paperback. I got my own anthology! I still receive comments from readers that those stories made them laugh, cry, feel romantic, and changed their lives. They say your first is your most precious. Just ask my mother about my sister.A Home for the Holidays (Dreamspinner Press) is my cherished holiday short novella about an American law student who, as I did, takes a trip to the romantic and gorgeous island of Capri, Italy, where he embarks on a relationship with his captivating third cousin.The Naked Prince and Other Tales from Fairyland (Dreamspinner Press) is my gay take on my favorite beloved fairytales like Cinderella, Goldie Locks and the Three Bears, Pinocchio, Jack and the Beanstalk, and The Snow Queen. Joel Leslie did the incredible audiobooks.
Vlad: And how about your two mystery series.
Joe: My Nicky and Noah mystery series (Lethe Press) are farcical, gay, cozy, who-dun-its. In Drama Queen (Divine Magazine Readers' Favorite LGBT Mystery Novel and Humorous Novel) theatre college professors are dropping like stage curtains. With the inept local detective more interested in getting into Nicky's pants than solving the murders, it is up to well-endowed Directing professor, Nicky Abbondanza to use his theatre skills (including playing other people) to solve the case, while he directs a murder mystery onstage. Complicating matters is Nicky's intense crush on Assistant Professor of Acting, gorgeous Noah Oliver, the prime suspect in the murder. In Drama Muscle (Rainbow Award Honorable Mention) Nicky and Noah have to use their theatre skills to find out why musclemen are dropping like weights in the Physical Education department while Nicky directs the Student Bodybuilding Competition. In Drama Cruise Nicky and Noah go on a cruise to Alaska, and discover why college theatre professors are going overboard like lifeboats while Nicky directs a murder mystery dinner theatre show onboard ship. In Drama Luau (releasing June 1), muscular male hula dancers are dropping like grass skirts as Nicky directs the Luau show. It's up to Nicky and Noah to figure out whodunit and why. Drama Detective and Drama Fraternity will follow.
In the Jana Lane mysteries (the Wild Rose Press), with straight leading characters and gay supporting characters, Jana Lane was the biggest child star ever until she was attacked on the studio lot at eighteen years old. In Paper Doll Jana at thirty-eight lives with her family in a mansion in picturesque Hudson Valley, New York. Her flashbacks from the past become murder attempts in her future. Jana ventures back to Hollywood, which helps her uncover a web of secrets about everyone she loves. In Porcelain Doll Jana makes a comeback film and uncovers who is being murdered on the set and why. In Satin Doll Jana and family head to Washington, DC, where Jana plays a US senator in a new film, and becomes embroiled in a murder and corruption at the senate chamber. In China Doll Jana heads to New York City to star in a Broadway play, where she is faced with murder on stage and off. In Rag Doll Jana stars in a television mystery series and life imitates art on the set. The novels are full of mystery, romance, humor, and theatricality. Since they take place in the 1980's, Jana's best friends are gay, and Jana is somewhat of a gay activist, the AIDS epidemic is a large part of the novels.
Vlad: But I'm not in any of those books. Everyone should read them anyway.
Joe: Agreed! Well Vlad, I had a blast. And I love hearing from readers! You can contact me at: http://www.JoeCosentino.weebly.com
Vlad: So everyone grab your Speedos, suntan lotion, and shades and head back to Cozzi Cove. Cal, Michael, and I have a bungalow waiting just for you. I hope to see you there!
COZZI COVE: NEW BEGINNINGS
the fourth novel in the Cozzi Cove seriesby JOE COSENTINO, published by NineStar Press
https://ninestarpress.com/product/cozzi-cove-new-beginnings/
Welcome back to the romantic and magical place called Cozzi Cove, seven guest bungalows on the New Jersey Shore. This summer, Cal and his new husband Michael, along with sister, Taylor and her wife, Carla, prepare for the first in the next generation of Cozzis. To add to the action: Cal finds his great-grandfather's diary, exposing a shocking surprise; Michael and Taylor weigh new job opportunities that could take them far away from Cozzi Cove; red-letter Christian and new houseboy, Billy Dean, gets his wish when meeting Jesus and John at the cove; summer guest, Nijad, can't decide which sibling he prefers—Annabel or Andrew; and Jonathan, an occult enthusiast, encounters a sexy vampire. As usual, nothing is as it seems when romance blossoms once again at Cozzi Cove. What secrets, mysteries, and passions lie waiting to unfold? Find out in Book Four of the Cozzi Cove series.
Praise for COZZI COVE: STEPPING OUT:
"But it's not just about the Cozzi's and the webs they weave, it's also about the Guests that check-in and check-out. But they never check out of our hearts.  We as readers, remember every one of them – they are the real beauty of Cozzi Cove together with this author's amazing talent – he makes these OTT characters stay with us, his characterization is just phenomenal and therefore great fun to read, I never chuckle as much as I do as when I'm reading a Cosentino." Three Books Over the Rainbow 
Praise for COZZI COVE: MOVING FORWARD:
"visiting Cozzi Cove is like coming home or revisiting a beloved holiday destination. I know everyone, by now, who is a permanent fixture and I sincerely hope that Cosentino continues this series forever. As before, the characters are a hoot. They're a mixture of funny, quirky, sad, lonely individuals who come together to make a riotously brilliant cast." Divine Magazine
Praise for COZZI COVE: BOUNCING BACK: Book of the Month at The TBR Pile, Rainbow Award Honorable Mention, 3rd Place Best Fiction Book of 2016 on Urban Book Reviews
"This book is extremely well written and all the stories are equally compelling and cleverly crafted. There are moments when, just as you think you know what's going on, the truth emerges and turns out to be something quite different….Cal's guests are an amusing and heart wrenching mixed bag of people, all of whom I found irresistible in their own way….So many wonderful, poignant and often funny stories are told here….It's a real roller coaster of a ride that's finished off perfectly as the guests spend their last day at Cozzi Cove then check out to move on with their lives." OptimuMM Book Reviews
Bestselling author Joe Cosentino won Divine Magazine's Readers Poll for Best LGBT Mystery Novel, Best LGBT Humorous Novel, and Best LGBT Contemporary Novel of the Year. He wrote the Cozzi Cove beach series: Cozzi Cove: Bouncing Back (TBR Pile Book of the Month/Rainbow Award Honorable Mention), Cozzi Cove: Moving Forward, Cozzi Cove: Stepping Out, and Cozzi Cove: New Beginnings (NineStar Press); the Nicky and Noah mysteries: Drama Queen (Divine Magazine's Readers' Favorite), Drama Muscle (Rainbow Award Honorable Mention), and Drama Cruise (Lethe Press); the Dreamspinner Press novellas: In My Heart/An Infatuation & A Shooting Star (Rainbow Award Honorable Mention), A Home for the Holidays, and The Naked Prince and Other Tales from Fairyland; and the Jana Lane mysteries: Paper Doll, Porcelain Doll, Satin Doll, China Doll, and Rag Doll (The Wild Rose Press). He has appeared in principal acting roles in film, television, and theatre, opposite stars such as Bruce Willis, Rosie O'Donnell, Nathan Lane, Holland Taylor, and Jason Robards. Joe is currently Head of the Department/Professor at a college in upstate New York, and is happily married. Joe was voted 2nd Place Favorite LGBT Author of the Year in Divine Magazine's Readers' Choice Awards! Coming next: Drama Luau, the fourth Nicky and Noah mystery.
Web site: http://www.JoeCosentino.weebly.com 
Facebook: http://www.facebook.com/JoeCosentinoauthor 
Twitter: https://twitter.com/JoeCosen
Goodreads: https://www.goodreads.com/author/show/4071647.Joe_Cosentino
Amazon: Author.to/JoeCosentino
An excerpt of Cozzi Cove: New Beginnings:
The sun rose like an erupting volcano filling the sky with shafts of violet, magenta, and gold, which ultimately turned to clear blue. Cal Cozzi stood on the white sand and gazed at the old lighthouse in the distance. At thirty-three, he was in the prime of his life, with thick auburn hair, clear green eyes, and a trim athletic build. Life was good, and as he smiled at the foamy waves teasing the craggy shore, Cal basked in the morning sun and in the beauty of his home.
Cal's great-grandfather, Calvin Cozzi I, had built the resort at Cozzi Cove and had had a big hand in the development of the town of Cozzi. It had always been home for Cal, and proved to be a solid oasis when as a young man his football and later restaurant careers failed, and nine years ago when his parents died in a car accident. He'd especially felt its comfort when he later lost his husband of five years to cancer. Like the bay water rejuvenated by the golden rays of each sunrise, Cal had put his life back together by managing Cozzi Cove and marrying Michael Rodgers.
It had only been a year since the greatest day of Cal's life, the triple wedding on the cove sands, attended by family and friends. Cal and Michael had been joined by two other couples in exchanging their vows: Cal's brother George and his longtime boyfriend, Aaron; and Cal's sister Taylor and her longtime friend, Carla. Though the Cozzi family was growing in numbers, Cal and Michael had wanted to start their own family right away. They did the happy dance on the sand when Carla offered to act as surrogate for their baby. With Carla's due date fast approaching, excitement, like the scent of the sea, filled the air at Cozzi Cove.
Michael, clad in a T-shirt and shorts like Cal, appeared at the front doorway of the main bungalow. His stocky build, caramel-colored skin, exotic eyes, and warm smile still caused Cal's heart to beat faster.
"I'm hungry."
"Then you'd better make breakfast." Cal enjoyed playing with Michael.
Michael liked it too. "If you make blueberry buckwheat pancakes, I'll give you a massage."
"You massaged something pretty well last night."
They shared a knowing smile.
Michael said, "I know how to get you inside."
"How?"
"The guests will be arriving soon."
At these words, Cal hurried inside the glass-enclosed porch, scooped the twenty-two-year-old into his arms, squeezed Michael's bubble butt, and gave him a good morning kiss. Then Cal went through the living room, passing the doorway to their front bedroom, and into the kitchen, glancing through the entrances to the rear bedroom and bathroom on the way. Cal was glad his brother's renovations of the bungalows had kept his great-grandfather's layout while expanding the rooms, including cathedral ceilings lined with white pine beams. As he gazed at the white wicker and oak furniture laden with flower-print cushions, Cal was thankful his great-grandfather's heavy nautical-themed furniture had found a home in a local museum. He smiled proudly at his own additions: the prints on the walls depicting lighthouses, seashells, and rocky beaches.
As usual, Michael leaned on the granite-topped island while Cal made breakfast. "Aren't you going to put more blueberries in the batter?"
Cal raised the mixing spoon. "Do you want to make these yourself?"
"I prefer to critique."
Cal mixed the buckwheat flour, buttermilk, egg, honey, coconut oil, and blueberries in a large bowl. "Your college degree is in photojournalism, not the culinary arts."
"A lot of good it did me."
"Your degree?"
Michael nodded and his soft chestnut bedhead fell into place. "Four years of college to be a bartender."
"You're only a bartender while Tommy is in New York City."
"Yeah, and when Tommy comes back from visiting Blue, it's bartender's assistant time again for me."
Cal poured the batter in circular mounds on the warm oiled skillet. "What about that gay magazine?"
"It was one freelance job!"
"Something else will turn up."
"Tell that to my resume on the web. It's beginning to feel like a wallflower at a party."
"It takes time. Photojournalism is a specialty field."
Michael pouted. That turned Cal on every time. He wrapped his arms around Michael and squeezed him into his chest. After a few wet kisses, Cal said, "You can always help me around Cozzi Cove."
"I thought you hired a new houseboy when Connor and his husband opened their bed and breakfast in town."
"I'm interviewing him this morning." Cal smelled the pancakes starting to burn. He grabbed the spatula and quickly flipped them.
Michael licked his lips. "You flipped me over like that last night."
"And you loved it."
They kissed again.
Cal felt Michael's erection pressing against his own. "I'd better concentrate on these pancakes." He slapped Michael's backside. "Instead of these cakes.""That's not what you said last night."
Cal giggled and served the pancakes. They sat at the white oak kitchen table, feeding each other and intermittently licking maple syrup off each other's chins.Just as they were finishing breakfast, Carla Mangione lumbered through the back kitchen door and announced, "If this watermelon doesn't come out of the patch soon, I'm going to kill someone."
"Hey, you're talking about our watermelon!" Cal replied as he got up to help her to the table. He put pancakes on a plate as Michael went to pour juice and milk for her."It won't be soon enough for me." Carla rubbed her enormous stomach; she was only thirty-five, but these days looked more like fifty-five. "I never knew you could get varicose veins on your stomach."
"And I'm sure yours are beautiful." Cal served Carla breakfast, kissed the top of her dark hair, and took a seat across from her at the table.
Carla leaned forward to massage her lower back. "I must be the biggest pregnant woman ever."
"That's because you're carrying our big, beautiful baby," Michael said, joining them.
After taking a sip of juice, Carla gagged. "Why does everything taste like fish or liverwurst?"
"Maybe our baby is the antichrist," Cal offered.
Carla took a bite of the pancakes. "What kind of huge genes do you two guys have?"
"Don't blame us." Cal put his arm around Michael. "It must have been the egg-donor."
"She must have donated ostrich eggs." Carla pushed her plate away.
Michael pushed it back in front of her. "Eat up, honey. You're having breakfast for two."
She looked down at her enormous stomach. "Really? Do you think?"
Cal finished his juice. "Whatever happened to, 'As your dear old friend and sister-in-law, it would be my honor to help you and Michael bring a child into this world. I can't think of anyone who'd make better parents'?"
"That was before I gained forty pounds and my back started aching constantly—before my breasts swelled up like helium balloons and my ankles expanded faster than a conservative politician's pocket after meeting with a Super PAC."
Cal fed her another piece of pancake. "But isn't it all worth it to bring a new life into the world?"
Carla groaned. "I used to get offended when people said God was a man. Now I'm sure of it. No woman would put another woman through this."
"Did you do your exercises this morning?" Michael asked.
Carla laughed. "I stopped being able to see my toes weeks ago."
"Have you been meditating with your crystals?" Michael sounded like a teacher with a lazy student.
"I think I threw them at your pictures when the baby kicked me like a Radio City Rockette. Meanwhile, you two were no doubt going at it last night like a running back and a wide receiver."
"A tight end, please," Michael said as he handed Carla her glass of milk.
"If I get any more milk in me, my breasts will explode." She took a sip and swallowed as if drinking fish oil laced with liquid soap.
Cal asked, "Have you been taking your prenatal vitamins?"
Carla nodded. "Maybe that's why this kid has been jumping around inside me like a Mexican hat dancer. Do either of you have any Mexican blood?"
"African and Scandinavian," Michael replied.
"Scottish and Italian," Cal said.
"Well, maybe he was doing a tribal dance and the tarantella." Carla flicked back her long dark hair. "While I was lying awake in bed, I did the baby's astrology and numerology charts."
Michael asked, "How can you do that without knowing his birthdate?"
Carla glared at him. "I decided if he doesn't come out of me by the end of the week, I'm pulling my nephew out with tongs."
"What did the charts show?" Cal didn't believe in the occult, but he was thankful to get Carla's mind off her discomfort.
Carla smiled. "He's going to be kind, strong, fair, honest, and quite successful."
"Of course he is. He's our son." Cal kissed Michael's cheek.
"Let's hope he's kind enough to make an appearance soon." Carla ate more of her breakfast.